Wondering where to start?
Daria Cook '14 Recruiting Profile
Vacaville High School
Fairfield, CA
Women's Track
College Coach?
Click here
to view all of Daria's information.
Height:

5'4"

Weight:

110

Age:

20

Prim. Position:

300MH

Sec. Position:

400M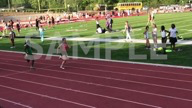 Personal Statement
My name is Daria Cook, I am now 17 years old and I am 5'6" and 125 pounds. I have been involved in track and field events for 5 years. Come fall of 2013 I will be a senior at Vacaville High School, located in Vacaville, California. In 2009 I participated in my first AAU Junior Olympics in Iowa (Drake University) where I placed fifth in the nation for the triple jump, eighth in the long jump and twelfth in the 200 meter hurdles. This year I qualified to participate in the 2010 AAU Junior Olympics in Virginia for the following events: 400m run, 200m hurdles, 100m hurdles and triple jump. Also, on July 9th, 10th and 11th of 2010 I will compete in the USATF national qualifier. I qualified for the CA State meet as a Freshman, I made it to the finals of the CA State meet in the 300 hurdles as sophomore and I took second in the 100 hurdles as a Junior in the CA State meet.
What I can offer to the team is leadership and my ability to contribute points to the team's overall score. I demonstrate my leadership skills by arriving to practice on time and leading the warm up session prior to the coaches arrival. Also, at track meets I assist younger athletes by preparing them for their events and making sure they are in the designated areas. I want to attend college in California and major in business. I have a desire to obtain two degrees: a Bachelor of Science and a Masters in Finance. I am willing to consider any school that offers a strong business program and sports. My goal athletically is to set records in high school track and field events and set a world record.



Athletics
Daria has not yet added athletic information.
Academics
Grades
This information is unavailable to unknown [or unregistered] users
Test Scores
This information is unavailable to unknown [or unregistered] users
High School Information
High School:

Vacaville High School

State:

CALIFORNIA

Phone:

(707) 453-6011
Academic Accomplishments
Honors Classes:
Yes. English History
AP Classes:
Yes. AP Pre-cal AP Chemistry
Registered with the NCAA Eligibility Center?
No
Awards, Achievements and Activities
Award
Award
Activity
Activity
My Info
Contact Information
This information is unavailable to unknown [or unregistered] users
Mailing Address
This information is unavailable to unknown [or unregistered] users
Statistics
Build your free recruiting profile
CONNECT with college coaches at 1700 schools
FIND available roster spots and scholarships
GET evaluated by a recruiting expert
Top NCSA Athletes at Vacaville High School
Top NCSA Athletes in Area
Softball - Center Fielder

Class of 2017

Women's Volleyball - Libero

Class of 2016

Women's Swimming - 50 Free

Class of 2015